Wyoming and Utah Pioneer Trails Auto Tours
---
Over half a million people crossed Wyoming and Utah on the Oregon, Mormon, California, Old Spanish, and Overland Trails in the second half of the 19th century. Along the way they found wide-open spaces and natural scenic beauty.
Today visitors to Wyoming and Utah can enjoy an enriching family vacation and outstanding outdoor recreation.
---
Wyoming and Utah Pioneer Trails make great family road trip vacations!
---
1) Laramie – On I-80. Laramie was an important stop on the Overland Trail. The days of Wild West outlaws are on display at Wyoming Territorial Prison State Historic Site. Famous residents included "Butch" Cassidy. Visitors can pick up a brochure at the gift shop to take a self-guided tour of the grounds and buildings that include furnished cells, prisoners' dining area, guards' quarters, the warden's office, women's quarters, museum exhibits and a nature trail. The American Heritage Center on the University of Wyoming campus has an extensive repository of books on Wyoming history and the American West. The Center's Toppan Rare Books Library holds more than 50,000 items from illuminated medieval manuscripts to 20th century literature. Visitors to the Laramie Plains Museum at the Historic Ivinson Mansion step back into Laramie's Gilded Age with authentic artifacts, furnishings and furniture. The historic downtown features great boutiques, galleries, lodging, dining and nightlife. The Cavalryman Steakhouse is on the grounds of historic Fort Sanders established in 1866 to protect the Overland Trail and the construction of the railroad.
Go to: visitlaramie.org.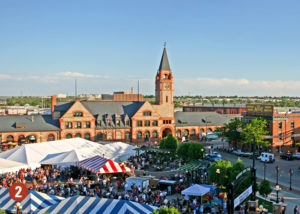 2) Cheyenne – When the promise of outdoor, rustic adventures lure you to Cheyenne, Wyoming, you'll find some surprises that will make you want to stop and stay awhile. Like historical 1800s buildings transformed into upscale restaurants serving world-class cuisine and flashy cocktail lounges with mixologists slinging artfully crafted spirits. The Wild West is celebrated at the Cheyenne Frontier Days Old West Museum, the Cowgirls of the West Museum, and during the Cheyenne Frontier Days Rodeo, the largest outdoor rodeo and Western celebration in the world. Wyoming's colorful history is on display at the Wyoming State Capitol and the Wyoming State Museum. Train Buffs will enjoy the Cheyenne Depot and Museum along with the Big Boy Steam Engine. Don't forget to book a guided tour on the Cheyenne Street Railway Trolley. See bison home on the range at the Terry Bison Ranch, and enjoy great outdoor recreation at nearby Vedauwoo, Medicine Bow National Forest and at Curt Gowdy State Park.
Go to: Cheyenne.org.
3) Torrington – On US 26.  The Homesteaders Museum is one mile north of the Historic Oregon Trail in the old Union Pacific Train Depot.  The museum houses artifacts, memorabilia and historical documents that tell the story of homesteaders who settled and passed through Goshen County.
Go to: gogoshen.net.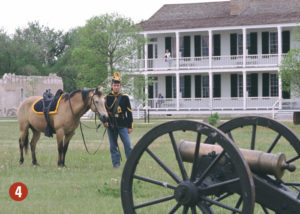 4) Fort Laramie National Historic Site – On US 26 west of Torrington and Lingle. The
"grand old post" evolved into one of the largest military posts on the Northern Plains, witnessing the entire sweeping saga of western expansion. The fort began as a fur and buffalo trading post then became the first stop in present-day Wyoming for the Oregon, Mormon and California Trails pioneers to rest and resupply before going west. Today 22 original structures of the fort still stand along with a modern visitor center. During the summer, the staff provides living history programs to help visitors understand 19th-century life. Interpretive programs and ranger led tours of the historic buildings and grounds are provided daily during the summer.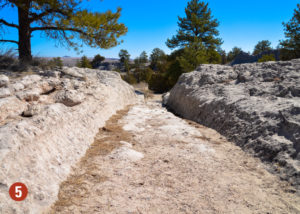 5) Guernsey – On US 26.  Visitors can see and stand in some of the best-preserved wagon wheel ruts made by the Oregon, California and Mormon Trails pioneers at the Oregon Trail Ruts State Historic Site south of town. Thousands of iron-shod pioneer wagon wheels cut deeply into the solid rock trail five-to-six-feet deep. A short trail leads visitors to the wagon ruts from the parking area that also includes restrooms, a picnic ground and interpretive signage. The Guernsey Visitor Center and Museum is a great place for information on the historic sites and recreational attractions in the area. Register Cliff State Historic Site, just two miles south of Guernsey, is one of three large "registers of the desert" where the pioneers carved their names and messages into the soft sandstone. The Sand Point Stage and Pony Express Monument and the Cold Springs Rifle Pit Hill Monument are also near Guernsey.
Go to: VisitPlatte.us.
6) Guernsey State Park – on WY 317 off US 26.  The park includes a total of 245 campsites in seven campgrounds and three boat ramp areas.  The park also features the Guernsey Museum, miles of scenic hiking trails leading to the "Castle" and Brimmer Point, some of the finest the Rocky Mountain area examples of Civilian Conservation Corps (CCC) work.
7) Wheatland – South on I-25.  Visitors can explore the area's history at the Laramie Peak Museum. A vibrant, historic downtown features unique shops, friendly residents, beautiful parks, eye-catching murals and hiking and biking trails. The nearby Grey Rocks Reservoir makes a scenic day trip.
8) Chugwater – South of Wheatland on I-25.  Once a stage stop on the famous Deadwood to Cheyenne route, and home to million-acre Swan Land and Cattle Company, today visitors can enjoy old time shakes and malts at the Chugwater Soda Foundation, the oldest working soda fountain in Wyoming.
9) Glendo – North of Wheatland and Guernsey on I-25.  The Glendo Historical Museum features an extensive fossil collection, pioneer historic items and Native American artifacts. The community also serves as the gateway to Glendo State Park, a great place for boating, fishing, hiking and biking.  Day-use and overnight facilities include marina services, fishing equipment and motel units.
10) Douglas – Northwest and just off I-25. The Wyoming Pioneer Memorial Museum displays artifacts and materials from pioneer and area Western History. Eight miles outside of town is the Fort Fetterman State Historic Site with a museum and self-guided tours.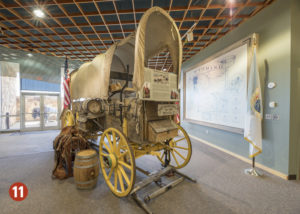 11) Casper – On I-25. The North Platte River, just east of present-day Casper, was one of the few places the Oregon, Mormon, California and Pony Express Trails converged. The National Historic Trails Interpretive Center features lifelike displays, interactive exhibits and an acclaimed video dramatizing pioneer diaries. 2022 will be the Center's 20th Anniversary and visitors can also climb inside the Conestoga Ride to experience a pioneer river crossing and try pulling a Mormon Handcart. The adjacent Visit Casper Welcome Center and Scenic Overlook has information on the historic sites and attractions in the area.
Historic Trails West guides visitors to Trail ruts by wagon or horseback. The Fort Caspar Museum includes the fully reconstructed fort complete with barracks, officers' quarters, telegraph office and artifacts. The fort's grounds include replicas of the Mormon Ferry and Guinard Bridge. Evansville Park in northeast Casper has a replica of John Richard's Reshaw Bridge used by pioneers. Other great visitor attractions include the Tate Geological Museum, Werner Wildlife Museum, the Nicolaysen Art Museum & the Discovery Center and the Science Zone for families.
Go to VisitCasper.com.
12) Independence Rock and Martin's Cove – Southwest of Casper and Alcova on WY 220. Independence Rock State Historic Site is west of the Pathfinder National Wildlife Refuge and reservoir.  Father De Smet named the cliff "Great Register of the Desert" in 1841 because of the many Prehistoric and pioneer names and images carved into the rock. A little further south is the Mormon Handcart Historic Site at Martin's Cove where many Church of Jesus Christ of Latter-Day Saints took shelter during a deadly blizzard in 1856. Today the Mormon Handcart Visitor Center features historical exhibits, and a walking trail to the Sweetwater Monument.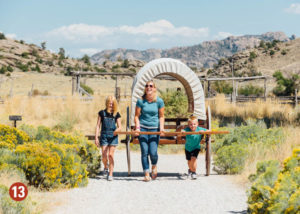 13) The Sixth Crossing Visitor Center – US 287 between Lander and Jeffrey City.  The center features exhibits on the rescue of the Willie Handcart Company who were caught in the deadly blizzard of 1856.
14) Lander – US 287. Trailhead to Wind River Country and the historic South Pass. The Museum of the American West and the Fremont County Pioneer Museum share a unique indoor and outdoor complex with a focus on the natural and cultural history of the Wind River, Sweetwater valley and South Pass Region. Lander is also the gateway to outdoor adventure including hiking, mountain biking, rock climbing, fishing and camping in the pristine Wind River Mountain Range. Eighty-five percent of Wind River Country is public land that includes beautiful Shoshone National Forest. Nearby Sinks Canyon State Park has unique geological formations with a famous disappearing river, scenic natural habitats and the chance to fish rainbow trout and enjoy outdoor recreation. The Wind River Indian Reservation is the home to the Eastern Shoshone and Northern Arapaho tribes where visitors can experience a powwow, visit cultural centers and learn more about Native American culture. The gravesite of Sacajawea, famed guide for Lewis and Clark, is located at Fort Washakie.
Go to: WindRiver.org.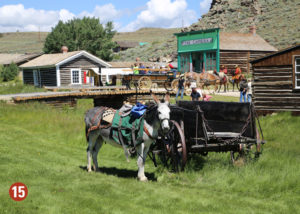 15) South Pass National Historic Landmark – Southwest of Lander on WY 28. Visitors can view the famed South Pass, the historic route followed by the Oregon and California Trails over the Rocky Mountains and Continental Divide. Today the site features a roadside exhibit with wagon ruts near the exhibit's parking lot. The historic Meeker and Whitman markers stand near the summit of the actual pass. Further south on WY 28 is South Pass City State Historic Site where gold was discovered in 1864. This is one of the best-preserved mining towns in the West. Visitors can tour 40 historical buildings, sip a cold sarsaparilla and even try their luck panning for gold. Nearby Atlantic City is a living ghost town with historic restaurants and saloons.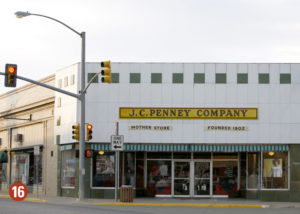 16) Kemmerer – US 30. The community is located on the major pioneer route from the Lander Trail to the Sublette Cutoff to California. Today the town serves as the entertainment and activity hub for Lincoln County. Visitors can visit and shop at the JC Penny "Mother Store" founded in 1902, the first store where James Cash ("JC") Penney founded his national retail chain. Just north of Kemmerer on US 189 is Fontenelle Reservoir and the Names Hill State Historic Site where thousands of pioneers carved their names in stone.
Go to: LCWY.org.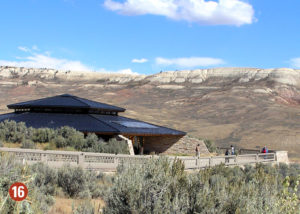 Fossil Basin -West of Kemmerer on US 30. Visitors can experience the real Wild West with a diversity of wildlife, scenic landscapes and marvel at one of the richest fossil sites in the U.S. Fossil Butte National Monument west of Kemmerer is one of the richest fossil sites in the U.S. The visitor center is a good place to start.
Go to: FossilBasin.org.
17) Fort Bridger State Historic Site – Southeast of Kemmerer, off I-80. The fort was a famous stop on the Oregon, California and Mormon Trails, the Pony Express, and the Overland and Cherokee Trails. Today the  park offers museum exhibits, self-guided tours, living history demonstrations and archeological excavations.
18) Evanston – I-80.  The historic downtown district offers a fun variety of services and entertainment at the restored roundhouse at Depot Square.
---
OUR PARTNERS:
19) Echo Canyon – Indigenous peoples walked this 24-mile historic route followed by mountain men, the Church of Jesus Christ of Latter-Day Saints and California Trail pioneers, pack trains, the Pony Express and the Overland Stage, the Union Pacific Railroad, Old Lincoln Highway and today's I-80. For a scenic side trip, westbound visitors follow the Old Lincoln Highway to view historic sites related to the Mormon Pioneer and Pony Express Trails.
20) East Canyon State Park – At Echo, take I-84 north a short distance to Henefer and UT-65 exit. Today the park is a popular destination for hiking, boating, fishing, and camping enthusiasts. Nearby the Little Emigration Canyon Recreation Trail includes the Mormon Flat campground and the scenic Big Mountain Pass road which provided emigrants with their first glimpse of the Great Salt Lake.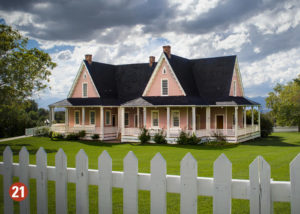 21) This Is The Place Heritage Park – Immediately east of Salt Lake City on I-80 at the Foothill Drive Exit. Celebrating 175 years of Pioneers in 2022! Here, visitors can step back in time and experience the Old West and early pioneer life in Utah. This unique historical park is fun for everyone! Visitors can pan for gold, ride ponies, ride one of four trains for a tour around the park, make take-home crafts, interact with frontier shopkeepers, a blacksmith, tinsmith, and saddle maker and hear the Heritage Singers. Visitors can also see an early Native American Village featuring authentic Navajo Hogans, America's largest teepee and Native American presentations of traditions, storytelling and much more before stopping at the Gift Shop which offers a variety of unique souvenirs. The park is also home to the National Pony Express Monument and Mormon Battalion Monument and Museum. This Is The Place Heritage Park is open from 9 AM to 5 PM daily.
Go to: thisistheplace.org.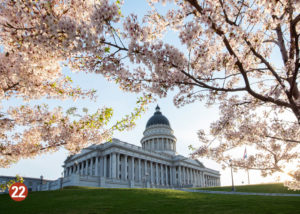 22) Salt Lake City – The Salt Lake Valley in the Great Basin became the destination for the Church of Jesus Christ of Latter-Day Saints on the Mormon Pioneer Trail from 1847 – 1869. Today, Temple Square is one of Utah's top tourist attractions. The nearby Tabernacle is home to the world-famous Tabernacle Choir at Temple Square. Families can trace their own ancestry at the Family History Library, while the Church History Museum features interactive exhibits that tell the story of the Mormon Pioneer Trail.
Northern Utah
The early California Trail pioneers followed two northern routes around the Great Salt Lake. The Bidwell-Bartleson Trail route marks the difficult journey of the first wagon train to California in 1841. Today, UT 30 approximates their route between Snowville and Lucin. The route was abandoned until 1869 when the Union Pacific Railroad followed the route for the first transcontinental railroad.
The Salt Lake Cutoff branched out from Salt Lake City and followed a northwestern route that ran along today's Utah state border until the City of Rocks in south central Idaho before going south to Nevada. Today's visitors can take I-15 north to see historic sites along this route between Ogden and Brigham City.
23) Ogden – North of Salt Lake City on I-15/84. Take a trip to Fort Buenaventura Park to see the reconstructed fort and trading post built by mountain man Miles Goodyear in 1845. The park today features a visitor center with artifact exhibits and a campground.
24) Bear Lake State Park – US 89/UT 30. Brilliant blue waters provide a haven for boating, camping, swimming, and fun. Boat rentals, cabins, fast food services and plenty of beach area are available.
Go to: StateParks.Utah.gov.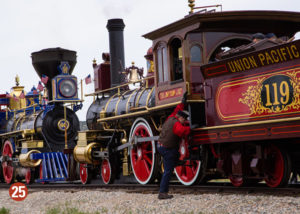 25) Golden Spike National Historic Park – 32 miles west of I-15 at Exit 365 at UT 13 to UT 83. Follow the signs to SR 83 to the Golden Spike National Historic Site. This is the site of Promontory Summit where the "Golden Spike" was pounded in to complete the Nation's first transcontinental railroad. Today the grounds include a visitor center, two operating steam engines, a walking trail and weekly reenactment events of the Golden Spike Ceremony during the summer. The 90-mile Transcontinental Railroad Backcountry Byway begins west of the Golden Spike National Historic Site. The byway is interpreted at over 20 sites following the old railroad grade through the remnants of railroad sidings, towns, and trestles. Visitors need to carry water, have spare tires and be prepared to travel gravel roads through the remote back country.
Go to: blm.gov/utah.
The Hastings Cutoff /Salt Lake Basin
Most pioneers, or 49-ers', traveling the California Trail took the Hastings Cutoff trail spur from Fort Bridger in present-day Wyoming to Echo Canyon, near present-day Herefer UT, down through Emigration Canyon and to present-day Salt Lake City. Historic trail sites along the Hastings Cutoff route include:
26) Great Salt Lake Viewing Area – 14 miles west of Salt Lake City on I-80 at mile marker 104. At Exit stop sign, makers are 200 feet to the left. This roadside turnout includes historic markers for a view across the lake and Stanbury Island. The historical marker commemorates mountain man and trailblazer Jedediah Smith.
27) Stansbury Park – Off I-80 on UT 138. The Ezra T. Benson Grist Mill was built by Latter-Day Saint pioneers in 1854 and is mentioned in pioneer diaries. Today the site includes the original gristmill, a sawmill, a re-created and operating gristmill, a country store, blacksmith shop, several historic cabins, barns, and picnic facilities.
28) Grantsville – on UT 138. The Donner-Reed Museum features such an extensive collection of Hastings Cutoff pioneer artifacts that it has been called "Grandmother's attic". The grounds include a commemorative monument, wayside exhibits, an-1853 cabin, and a unique cage-like jail built in 1863. The Daughters of the Utah Pioneers Museum is open by appointment only.  Call (435) 884-3767 or (435) 884-4311.
The Pony Express Trail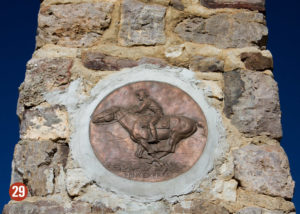 29) Bluffdale – Southbound I-15 at Exit 288. A stone marker is at the location of  Rockwell's Station, once a Pony Express mail station, hotel and brewery operated by Orrin Porter Rockwell, often called "The Destroying Angel."
30) Lehi – Located off I-15 at Exit 279. John Hutchins Museum of Natural History features exhibits on the Pony Express, the Church of Jesus Christ of Latter-Day Saints pioneers, and native peoples of the area. The Eagle Mountain Pony Express Trail Segment features pedestrian, bike, and equestrian trails, as well as wayside exhibits along the original Pony Express Trail.
31) Camp Floyd / Stage Coach Inn State Park and Museum – West of I-15 off UT 73. Established by the U.S. Army and built with the help of local citizens in 1858, the camp was the largest military installation before the army left for the Civil War in 1861. The Commissary Building includes a museum with historic exhibits and the Stagecoach Inn features furnishings of the period.
32) Faust – Turnout on the west side of UT 36. A 1939 Civilian Conservation Corps-constructed monument marks the site of Faust's Station. This site, also called Rush Valley Station, was where Pony Express riders ate and slept after completing their relay west of Salt Lake City.
The Pony Express Trail National Back County Byway is managed by the Bureau of Land Management and follows 123-miles of unpaved roads along the original Pony Express route in western Utah. The route meets unpaved roads west of Faust. The byway crosses remote sagebrush country that looks much like it did in the 1860s. There are interpretive stops at Pony Express station sites along the way. Historical sites along the way include Boyd Station, northwest of the Fish Springs National Wildlife Refuge, and the Canyon Station. The roads are suitable for two-wheel drive vehicles when dry, but high clearance is advised. A tour along the byway typically takes 10 to 12 hours. The route meets pavement at Ibapah near the Utah and Nevada border.
Go to: blm.gov/utah.
Central Utah
33) Provo/Utah Valley – South of Salt Lake City on I-15. Provo is home to Brigham Young University which features the Museum of Art, the Covey Center for Fine Arts and the BYU Museum of Paleontology. Utah Valley includes the Uinta-Wasatch Cache National Forest, Robert Redford's Sundance Resort, and the scenic Bridal Veil Falls.
34) Manti-La Sal National Forest – Southeast of Provo on US 6/89. This National Forest offers hiking, biking, climbing, camping, fishing, hunting and off-road vehicles.
Go to: fs.usda.gov/attmain/mantilasal.
Southern Utah
The Old Spanish Trail This National Historic Trail was originally a pack trail from Santa Fe to Los Angeles that was used primarily by traders from 1829-1848. It followed several variant routes through New Mexico, Colorado, Utah, Arizona, and California. Beginning in 1848, the Mormons converted the western part of the trail into a wagon road from Salt Lake City to southern California. The Old Spanish Trail route enters southeastern Utah near present-day Monticello.
35) Monticello – At the intersection of US 491 and 191. The Monticello Visitor Center provides information and maps for southeastern Utah National Parks and scenic sights in the area.
36) Canyonlands National Park – West of Newspaper Rock Recreation Site on UT 211. Look upon staggering waves of deep canyons, towering mesas, pinnacles, cliffs and spires encompassing 527-square miles. The Needles District, featuring red rock spires and sandstone fins, requires backcountry use permits and high clearance 4WD vehicles.
Go to: nps.gov/cany/index.htm
37) Moab – Located off US 191, the Moab Visitor Center provides information on Arches and Canyonlands National Parks and western Manti-La Sal National Forest. The Moab Museum, an Old Spanish National Historic Trail Certified Site, features interpretive galleries with southeastern Utah's natural and human history.
38) Arches National Park – Located of U.S. Highway 191, is the Arches National Park's Visitor Center and the main entrance is to the Park. South of Arches National Park South of Arches National Park South of Arches National Park is Dead Horse Point State Park. Visitors can enjoy desert canyons, high desert woodland, and miles of trails with memorable views. The park includes wonderful campgrounds with modern amenities.
Go to: StateParks.Utah.gov.
39) Green River – Located off I-70 in southcentral Utah. The John Wesly Powell River Museum is an Old Spanish National Historic Trail Certified Site.
40) Castle Dale – Located north of I-70 on UT 10. The Museum of the San Rafael Swell is an Old Spanish National Historic Trail Certified Site. The museum features dinosaur fossils, life-like wild animals in natural settings, and artifacts from early native peoples who lived in the area.
41) Richfield – The Richfield Visitor Center located off I-70 on North Main is an Old Spanish National Historic Trail Certified Site. The center can provide information on area attractions, lodging, shopping and the historic Main Street. Visitors can also enjoy access to nearby natural hot springs, scenic byways colored with aspen stands and outstanding outdoor recreation. About 20 miles east of Richfield on I-70 is Fremont Indian State Park and Museum that preserves colorful Native American rock art and historic sites. A classic hobo's song comes to life in a beautiful setting at Big Rock Candy Mountain, about 30 miles east of Richfield. The area today features a restaurant, motel, RV park and access to great fishing, hiking, rafting and the 200-mile loop Paiute ATV Trail.
Go to: sevierutah.net.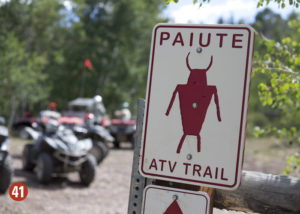 42) Fish Lake National Forest – This National Forest flanks the east and west sides of Richfield and includes  Fish Lake, Utah's largest natural mountain lake. The forest can offer trophy fishing and fantastic bird watching. The forest features Aspen stands in open mountain meadows that are home to elk, deer, black bear, cougar, moose, wild turkeys and mountain goats.  The Fish Lake Byway can provide a scenic introduction to the area.
Go to: fs.usda.gov/main/fishlake/home.
43) Escalante Petrified Forest State Park – On Scenic Byway 12. Visitors can camp along the shores of Wide Hallow Reservoir and hike trails leading to prehistoric petrified forests. At nearby Anasazi State Park Museum visitors can tour the site of an Ancestral Puebloan village from AD 1050– 1200.
Go to: StateParks.Utah.gov.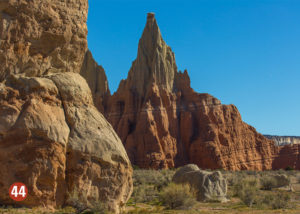 44) Kodachrome Basin State Park – Scenic Byway 12. Beautiful multi-colored monolithic spires jut up from the valley for great photos. The day park offers hiking, horseback riding and mountain biking. Visitors should also plan to see nearby Grosvenor Arch, an intricate double arch just 10 miles southeast from the park.
Go to: StateParks.Utah.gov.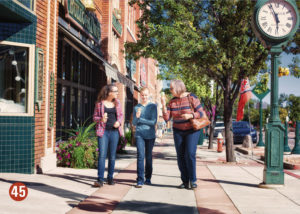 45) Cedar City – I-15.  Visitors can experience the days of the pioneers and iron ore miners at Frontier Homestead State Park Museum featuring historic buildings,wagons and artifacts and interactive exhibits. Nearby Cedar Breaks National Monument features a 2,500-foot deep basin with canyon walls in vivid, multi-colored hues. Cedar City can also serve as the gateway for visits to Zion National Park, Bryce Canyon National Park and Dixie National Forest. Kanarra Falls is a beautiful slot canyon hike with stunning waterfalls. The plays of William Shakespeare and other classics are performed nightly from June through October at the Tony Award® winning Utah Shakespeare Festival at the Beverley Center for the Arts. The Southern Utah Museum of Art displays the work of regional artists and a permanent collection of National Park paintings. Brian Head Resort offers snow-skiing and family-friendly winter fun from November through April and summer mountain biking, hiking and special events on the weekends in the summer.
Go to: VisitCedarCity.com.
46) Cedar Breaks National Monument – Southeast of Cedar City on UT 14. This Monument within Dixie National Forest features multicolored strata plunging 2000-feet into canyon walls and deep basins.
Go to: nps.gov/cebr.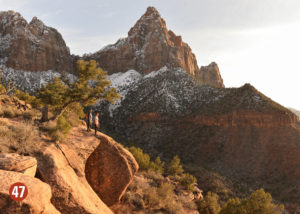 47) Zion National Park – East of I-15 on scenic SR 9 at Springdale. Visitors can hike into seemingly impossible places and heights to see colorful layers of strata that mark the ages. Popular hikes include Angels Landing, The Narrows, Hidden Canyon and Observation Point. Visitors are urged to take extra water and sun protection. Visitors can take the free town shuttle from Springdale to avoid traffic congestion.
Go to: nps.gov/zion/index.htm.
48) Coral Pink Sand Dunes State Park – On UT 59. Explore red coral sand dunes and scenic red rock country by ATV. Visitors can also rent sand boards and sand sleds to "surf" the dunes. Bolder visitors can take the All-Ways Adventure Rappelling Tours for panoramic views.
Go to: StateParks.Utah.gov.
---
OUR PARTNERS: