Idaho Pioneer Trails Auto Tour
---
Thousands of Oregon and California Trail pioneers trekked across what is today Idaho from 1841-1869. The pioneers followed high plains overlooking deep Snake River canyons.
Oregon Trail pioneers continued along the Snake River to the high desert country of eastern Oregon. The California '49ers' left the Oregon Trail at the Raft River Valley, west of today's American Falls. They went southwest and passed the natural rock formations at today's City of Rocks National Reserve near the southwestern border of today's Idaho.
Visitors can see portions of the Oregon Trail just as the early explorers and pioneers, thanks to the management, protection and interpretive services of the Idaho office of Bureau of Land Management (BLM). BLM's 102-mile Main Oregon Trail Back Country Byway leads from the bluffs overlooking the Three Island Crossing of the Snake River at Glenns Ferry to the scenic bluff providing a panoramic view of today's Boise at Bonneville Point recreation area providing a scenic overlook of today's Boise.
Idaho's Pioneer Trails country has something for everyone…from historic sites that inspire, outdoor recreation that's fun for the whole family, to mountain vistas that will leave you breathless.
It's all here to see and enjoy in Idaho's Pioneer Trails country!
---
Discover Idaho's Pioneer Trails…
---
IDAHO
1) Bear Lake State Park – US 89 at St. Charles.  Often called "the Caribbean of the Rockies" because of its clear turquoise waters, the park's north and east ends include over five miles of beaches for swimming, boating, water sports, fishing, hiking and camping. Visitors might glimpse geese, ducks, owlets and even moose at the Bear Lake National Wildlife Refuge.
2) At St. Charles' Minnetonka Cave visitors can take subterranean trails filled with natural wonders.
Go to: BearLake.org.
3) Paris – US 89. The Paris Tabernacle built in the 1880s is a landmark of the pioneer West. The City of Paris Historical Museum features exhibits and artifacts on early settlement. Great ATV trail adventures await at Paris Canyon.
Go to: BearLake.org.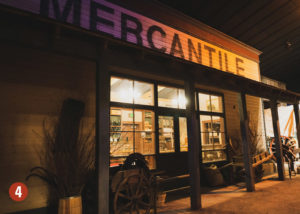 4) Montpelier – US 30.  Visitors can see the ruts from thousands of Oregon and California Trail pioneer wagons at the Oregon-California Trail Portal – Big Hill roadside pullouts on US 30 beginning at Milepost 440.  At the National Oregon California Trail Center visitors can join a wagon train, choose trail supplies, hear stores around the campfire and ride a simulated covered wagon. The Center also includes a gift shop, an art gallery, the Montpelier Heritage Museum and the Historical Quilt Museum.
Go to: OregonTrailCenter.org.
5) Soda Springs – US 30. Many pioneers thought the carbonated water from the area's natural springs tasted like beer.  Today a 100-foot-tall geyser of spring water erupts every hour at Geyser Park and Visitor Center. Visitors can follow wagon trail ruts at Oregon Trail Park and at the Oregon Trail Golf Course.
6) Pocatello/Chubbuck – I-15.  Today's Fort Hall Replica and Frontier Town celebrate this colorful era of pioneer history.
7) Fort Hall Reservation – I-15 exit 80.  The Shoshone-Bannock Tribal Museum in Fort Hall displays Shoshone and Bannock tribal history, culture and art.
8) American Falls – I-86. The Oregon Trail Sportsman Access provides fishing and boat access to the Snake River.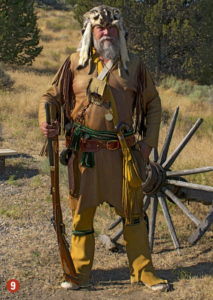 9) Massacre Rocks State Park – Off I-86. This park on the Snake River is home to a variety of plant and bird species and features hiking trails, rock climbing and world-class disk golf. Visitors also don't want to miss Register Rock where pioneers etched their names. A visitor center and pioneer wagon ruts are nearby.
Go to: ParksAndRecreation.idaho.gov.
10) Burley – South of I-86 on US 30. This is great place to swim, fish, boat, waterski, paddleboard, wakeboard or windsurf along over 20-miles of Snake River shoreline. A variety of fun restaurants overlook the river and even play golf next to the river at River's Edge Golf Course. The Cassia County Historical Museum provides a fascinating glimpse of the area's history from Native Americans to the pioneers and early settlers. Storybook Park is a great family place designed by kids for kids of all ages. The King Fine Arts Center features performance arts year-round. The Snake River inspires many fun events including the Spudman Triathlon, the Idaho Regatta jet boat races, and the Wake in the Snake wake board competition.
Go to: BurleyIdaho.org/196/attractions.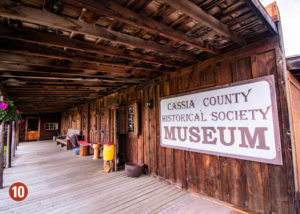 11) Milner Historic Recreation Area – is located nine miles west of Burley on the south bank of the Snake River. This historic site is located where over 170 years ago Oregon Trail emigrants passed through and in some areas their deep wagon ruts are still visible. There are several developed and primitive recreation sites available on the shoreline of the Snake River in addition to a hiking trail leading to some of the historic trail ruts.
Go to: blm.gov/sites/blm.gov/files/documents/files/StateRecreationGuide.pdf
12) Castle Rocks State Park – The park's craggy cliffs resemble castles of old that today offer great places for sightseeing, hiking, mountain biking and rock-climbing.  The park also includes remnants of Native America pictographs, the California Trail and 20th century ranching. Camping choices include campgrounds, yurts or a century-old ranch house and bunk house.
Go to: ParksAndRecreation.idaho.gov.
13) City of Rocks National Reserve – Named by a California Trail pioneer who described the area as a "City of Rocks," today the reserve encompasses 12,407 acres and still has  pioneer wagon ruts and pioneer inscriptions on granite boulders.
Go to: VisitSouthIdaho.com.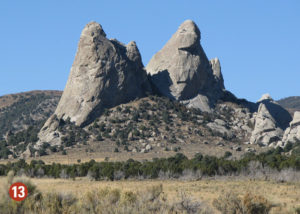 14) Twin Falls – US 30. The central valley's largest city on the south rim of the 500-feet deep and a quarter-mile wide Snake River canyon. The visitor center on the southwest side of Perrine Bridge provides a great view of the canyon. The Twin Falls Historical Museum features pioneer exhibits. Picturesque Centennial Waterfront Park is located on the northside of Twin Falls, and three miles northeast of the city is Shoshone Falls Park for breathtaking waterfalls. At nearby Hansen southeast of Twin Falls visitors can see a preserved Oregon Trail settlement at Stricker Rock Creek Station which was the first supply post for emigrants west of Fort Hall.
Go to: VisitSouthIdaho.com.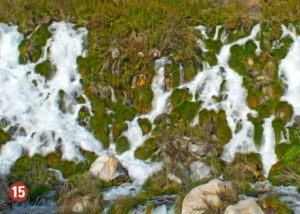 15) Thousand Springs Scenic Byway – US 30. This drive features everything from prehistoric and Oregon Trail sites to outstanding recreation. The Kelton Trail unit of Thousand Springs State Park includes a segment of the Oregon Trail. At Billingsley Creek visitors can fish for trout, view wildlife or ride horses. The Hagerman Fossil Beds National Monument has one of the nation's richest fossil deposits. The Hagerman National Fish Hatchery is a great place to see steelhead and rainbow trout.
Go to: VisitSouthIdaho.com.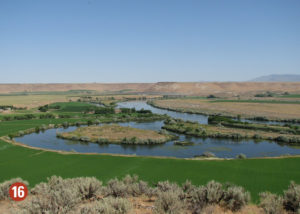 16) Glenns Ferry – I-86. Trail visitors can take time and visit local wineries, play golf, dine, stay overnight and get supplies before touring historic Three Island Crossing State Park, one of the few places Oregon Trail pioneers could cross the Snake River. Park visitors can take a self-guided tour and view original wagon ruts and Conestoga wagon replicas. The park's Oregon Trail History and Education Center features displays of the area's Native American, pioneer and early settlement history. The park also includes picnic shelters, a full-service campground and eight cabins.
Go to: GlennsFerryIdaho.org/visitors-guide-and-tour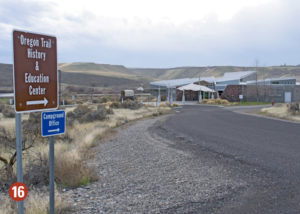 17) Mountain Home – Just off I-84. The Desert Mountain Visitor Center has information and directions to all the great Snake River attractions nearby. The Mountain Home Museum offers a fascinating look into early settlement in the area. Railroad Park is the scenic setting for a fresh Farmers Market throughout the summer.
Go to: Mountain-Home.us/visitor-guide.
18) Bruneau area – ID 78. Bruneau Dunes State Park has the tallest single-structured dune in the nation and is a memorable place for hiking and sandboarding. Visitors can peer down Bruneau Canyon's breath-taking 1,200-foot drop at the Bruneau Canyon Overlook on Hot Springs Road south of Bruneau. The CJ Strike or the Anderson Ranch Dam Reservoirs nearby are great getaways for a day of swimming, fishing and boating. There are excellent Oregon Trail ruts along the south side of the CJ Strike Reservoir.
Go to: VisitSouthwestIdaho.org.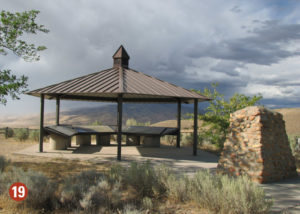 19) Bonneville Point Recreation Area – I-84 exit 64, Black Creeks Road. This is where Captain Benjamin Bonneville and his expedition first saw the valley he named "Les Bois" that today is Boise. Today the area includes interpretive signs, excellent Oregon Trail ruts, hiking and picnic areas.
Go to: blm.gov/visit/Bonneville-Point.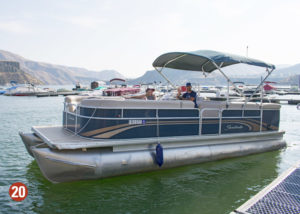 20) Boise – I-84. Area cultural attractions include the Idaho State Museum, the Boise Art Museum, the Idaho Black History Museum and the Basque Museum and Cultural Center. The Boise River is lined with bike and hike trails and riverfront parks. Nearby Lucky Peak State Park is great for boating.
Go to: VisitSouthwestIdaho.org.
21) Old Fort Boise Replica – In Parma on US 26. The trappers fort and Oregon Trail supply post has been recreated and includes a museum.
---
OUR PARTNERS: