Board Meeting Set for February 27
It's time to be preparing for the mid-year Zoom board meeting scheduled for the 27
th
 of February. 
If you have any agenda items to submit, please send them to President Lee Black at nobletr1857@gmail.com.  We also ask that your committee or chapter reports be submitted to Kathy Conway at kconway@indepmo.org no later than February 8, 2021.  It's important that reports get received, circulated, read, and absorbed before the meeting, especially where any action items may be involved.  Please do your best to meet this deadline, and let us know if you have any questions or problems.
More information will be sent later about the time and how to attend (join) the February 27th meeting. The membership is welcome to sit in and observe.
Colorado-Cherokee Chapter to Host Zoom Presentation on Saturday, January 23
The next Zoom event of the Colorado-Cherokee Trail Chapter will be on Saturday, January 23.  This event is a special presentation on the Virginia Dale Stage Station and Jack Slade, its renowned superintendent.
Colorado historian Ken Jessen will present his new video which includes a virtual tour of the station, a discussion of its history and restoration over the years, highlights of the history of the Overland Trail, and interviews with Wayne Sundberg and Sylvia Garofalo.
Dan Rottenberg, an historian in Philadelphia, will talk about the legends and legacy of Jack Slade.  Dan is the author of Death of a Gunfighter: The Quest for Jack Slade, the West's Most Elusive Legend.  This book was the winner of the Wild West History Association's award for "Best Western History Book of 2008."
Time:
1:00 Pacific
2:00 Mountain
3:00 Central
4:00 Eastern
Please plan to join us for this event.  The Zoom link is enclosed and it is not necessary to pre-register. Join Zoom Meeting at https://us02web.zoom.us/j/89313970988.
National Historic Trail Asset Inventory
Ever wondered how many interpretive waysides, museum exhibits, road or pedestrian signs are along the national historic trails or what condition these items are in? Now you can help inventory these assets using an app on your phone. The National Trails Office has developed a mobile application (app) for tracking assets along the trail including interpretive waysides, museum exhibits, and National Historic Trail (NHT) road or pedestrian signs. This app utilizes a user-friendly interface, similar to a fillable PDF, and only requires filling out prompted questions and taking site asset photos while the mobile device captures the global positioning system (GPS) location. Locations record automatically when the user submits information for the sign, wayside, exhibit, or other NHT asset. The app eliminates the use of complex and costly GPS devices and enables users the same capability on their smart phone or tablet utilizing the built-in GPS. No cellular coverage or internet connectivity is required for field recording of locations because uploads occur once the user is connected back to a network.
The asset inventory is conducted through the ESRI Survey123 app, allowing the National Park Service's office to work collectively with volunteers and trail associations to inventory the assets across the expanse of the NHTs. Through the use of the app, trail associations and the National Trails Office can answer questions regarding the number of assets, conditions, whether they need to be replaced, location, and where there is a lack of interpretive assets.
The survey dynamically changes and displays questions based upon the user inputs to questions regarding the NHT, sign type, asset title, material types, dimensions, and condition. Be aware of your surroundings most especially in proximity to roadways. Be cautious of wildlife when conducting field data collection and respect private property or ensure you have the proper permissions or permits for access. Do not record cultural resources or use the app for historic trail mapping.
Contact OCTA HQ at tboley@indepmo.org if you are interested in being a contributor to this effort and an ArcGIS Online partner account will be created for you to access training materials and enable your use of the app after downloading from the app store.
Chuck Dodd
Last week, we reported on the passing of long-time member Chuck Dodd, but we still do not  have any obituary or service details. However, board member Pat Fletcher wanted to pass along her thoughts regarding Chuck's extraordinary legacy.
"Some of us remember that it was Chuck Dodd's idea to create what became the COED (Census of Overland Emigrant Diaries) database. He spent years dealing with the vast assemblage of materials collected by volunteers from nooks and crannies, individuals, and small and large libraries. Attempting to do a complete "Census of Overland Emigrant Documents" from across the country, volunteers from every chapter of OCTA gleaned materials.  All of the materials were sent to Chuck Dodd, who entered the ever-growing volume of material into the cumbersome computer technology of the 80s.
"The end result were two CDs: "Emigrant Names 1 and 2." As technology changed there was a broader OCTA volunteer movement that worked to move the materials  forward through ever-changing technologies. They worked to standardize and quality check and scan and copy the thousands of pages from the original paper materials. The collected documents were essential to trail historians. And they continue to be.
"That first idea that Chuck Dodd had, nurtured and morphed by many OCTA volunteers since the early 1980s, is now called "Paper Trail" (www.paper-trail.org) and is available not only to OCTA members but to historians and genealogists around the world. Thank you Chuck Dodd – and the hundreds of OCTA volunteers who gave thousands of hours and skills to this flagship project."
Nominations Committee Seeks Nominees for Board Election
Nominations are being accepted through February 15 for election to OCTA's National Board of Directors. Four Directors will be elected. Directors serve three-year terms and may serve no more than two consecutive terms with at least a year off before being eligible to run again.
Directors whose terms will expire at the National Annual meeting in 2021 are Matt Mallinson, Duane Iles, John Briggs, and Helen Hankins. Hankins and Briggs (future President) are both eligible for re-election. Mallinson and Iles are completing their second three year terms and not eligible for re-election.
Members of the Board are responsible for setting policies and priorities for the organization and electing officers. They also serve as important liaisons with OCTA chapters and can represent the interests of their chapters at board meetings.
Directors are expected to attend two Board meetings annually, one of which is held in conjunction with the Annual Convention. The second, a Mid-Year meeting usually held in the late winter or early spring, is held in rotating locations.
In order to be a candidate for the Board of Directors, a short statement of qualifications and experience are required, as is a recent photograph and the endorsements of three members of OCTA. These items should be sent to the Nominating & Leadership Committee chair. Contact Pat Traffas at traffasp@gmail.com, or send mail to 6731 W. 108 Terrace, Overland Park, KS 66211 no later than February 15, 2021.
We also need candidates for Vice-President to be elected at the annual meeting by the Board of Directors. It is a two-year term leading to the Presidency.
For more information about the election process or the job, please members of the Nomination & Leadership Committee, Pat Traffas, Duane Iles 96cruisin@embarqmail.com, or Cecila Bell ceciliajb@aol.com. Additional information may also be found at the Members Area of the OCTA website.
OCTA Seeks Volunteers for Marketing/PR Committee and Library/Archives Committee
Last September, OCTA's Board of Directors approved its newest Five Year Strategic Plan. OCTA seeks members and leaders for our Marketing/PR Committee and Library/Archives Committee to help implement the goals, objectives, and action items delineated in the newest strategic plan.
Action items for both our Marketing/PR Committee and Library/Archives Committee can be found on page four of this plan.
Goal 2 of the plan reads "(p)resent the stories of the emigrant experience in a manner that is inclusive of other perspectives."
Objective A reads "(i)mprove and expand data collection" with Action Items of:
Make publications, diaries and journals available through improved website for public access
Inventory and improve access to OCTA library collections
Outcomes and Deliverables include:
Trails-related publications, diaries and journals are digitized and posted to the OCTA website annually
OCTA library collections are inventoried and deposited into publicly accessible repositories by 2025."
Objective B reads "Raise Public Awareness" with action items of:
Expand availability of organizational speakers
Create audio visual materials
Develop a Social Media Plan and other outreach materials
Expand use of social media
Deliverables include:
National will assist chapters to offer presentations in their communities
A minimum of 15 videos of two – five minutes in length are posted on websites and social media by 2025
Social Media Plan would identify an outreach product to be created and posted to the OCTA website annually
OCTA Twitter feed and Instagram posts are initiated by 2021; website and Facebook are active and kept current monthly
If you are interested in serving or chairing either committee, please contact President Lee Black at nobletr1857@gmail.com.
Order Fresh Coffee and Help OCTA's Bottom Line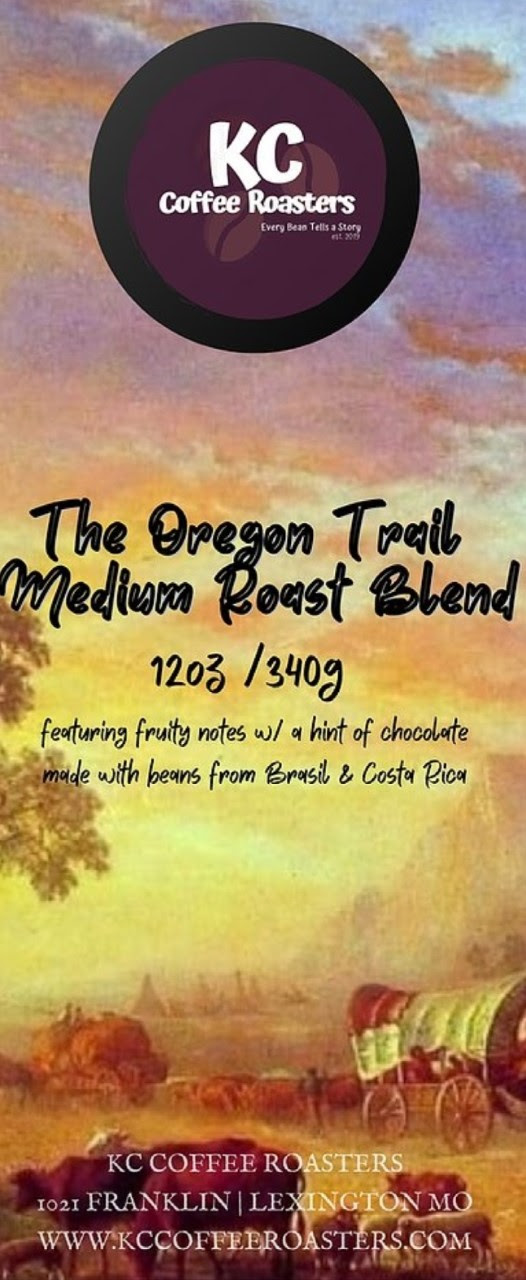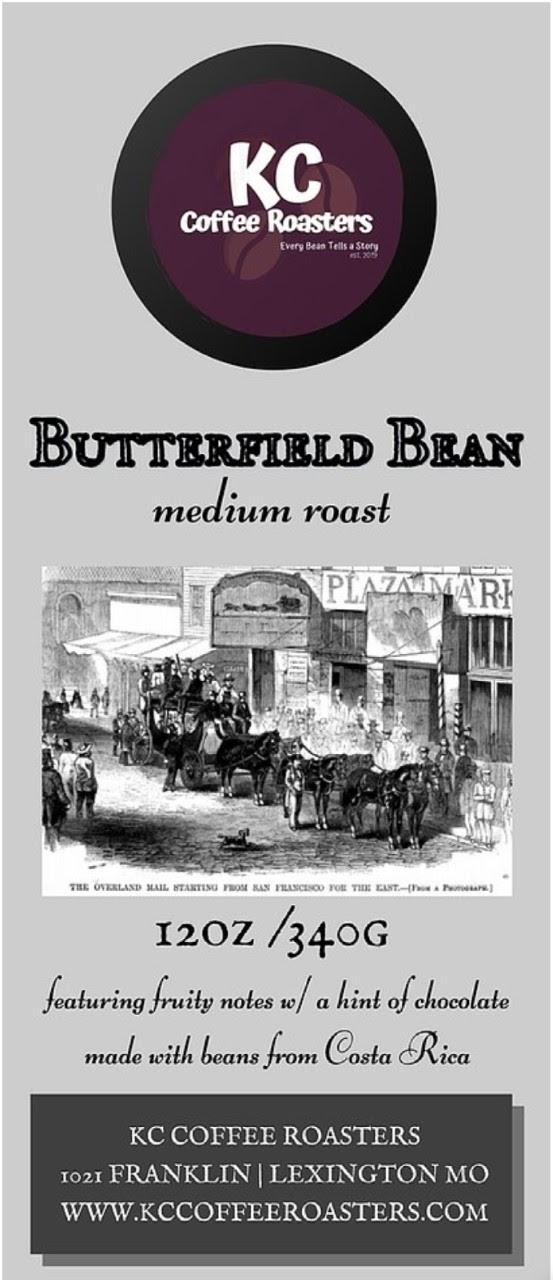 OCTA is excited to announce that KC Coffee Roasters has created two specialty coffees with 10% of every purchase being donated to the Oregon-California Trails Association. They are currently featuring Oregon Trail and Butterfield Bean blends. Visit their website at https://www.kccoffeeroasters.com/order-online to order now.