OCTA Member Gerald Ahnert to Present on the Butterfield Overland Stage and Southern Overland Trail
On Saturday, February 5 at 3 PM Central, Gerald Ahnert will be interviewed by Voices of the West, a radio program out of Tucson, Arizona. Although the digital flyer for the show indicates that the talk will include "the heated competition between the Wells-Fargo line and the Butterfield line," it will not be about that since there was no competition. But Mr. Ahnert will state the many myths about any direct association. The talk won't be about just Butterfield because the subject cannot be separated from the history of the Southern Overland Trail. Make your calendars and tune into their website tomorrow afternoon.
Upcoming Colorado-Cherokee Trail Chapter Zoom Presentations
On behalf of the chapter board, thanks to all of you who participated in the event last Saturday on the Virginia Dale Stage Station and Jack Slade.  If you were unable to do so and would like to view the video, please let Chapter President Camille Bradford know and she will send you the link. She can be reached at bradford@usa.net.
Upcoming events:
February 20: A "Fireside Chat" with Lee Black, OCTA's National President.
March 20: Presentation by Terry Bolinger and Kevin Blake on Zane Grey and his novels related to the historic trails of the American West. Mr. Bolinger is President of the Zane Grey's West Society and Dr. Blake is a semi-retired Professor of Geography at Kansas State University.
Further details on these presentations and the Zoom links will be circulated in the interim.
New App Available from the California Trail Center in Elko, Nevada
The California Trail Center in Elko is pleased to announce its new trail app that you can download to your cell phone in order to visit sites in their greater region. This is especially handy for those of you who plan to attend the OCTA convention in Elko next September. Visit 
www.ctic.oncell.com
 to download the app or see 
more information in their flyer
.
Board Meeting Set for February 27
It's time to be preparing for the mid-year Zoom board meeting scheduled for the 27
th
 of February.
If you have any agenda items to submit, please send them to President Lee Black at nobletr1857@gmail.com.  We also ask that your committee or chapter reports be submitted to Kathy Conway at kconway@indepmo.org no later than February 8, 2021.  It's important that reports get received, circulated, read, and absorbed before the meeting, especially where any action items may be involved.  Please do your best to meet this deadline, and let us know if you have any questions or problems.
More information will be sent later about the time and how to attend (join) the February 27th meeting. The membership is welcome to sit in and observe.
Update on the Forlorn Hope Expedition
Earlier, we reported on a team of people who retraced the steps of the Donner Party's Forlorn Hope Expedition (FHE). We hope you both saw and enjoyed their story. Following is an update on what the FHE is planning for their next History Trail Trekking (HTT).Bob Crowley, one of the endurance runners who comprised the FHE, the group seem to be settling on hiking/running the same trail the Donner Party traveled which ties into their interest of the Forlorn Hope group. They would start at Independence MO, take the Hastings Cutoff, pass through the Johnson Ranch and end at Sutter's Fort. They are looking at doing it over three months, possibly this September., October, and November, or one month over three years. In the end, they may go a whole different direction.
Bob Crowley and Tim Twietmeyer are legendary endurance runners turned historians. These are serious people and they are set to do something related to the emigrant trails. They are starting the planning process now and collecting maps and information. They know the original trail does not exist in its entirety any long, and is not accessible everywhere, meaning they will have to travel on state highways and county roads at times. This is a great opportunity to bring the western migration story and historic trails to the forefront. OCTA seems to be positioned best to sponsor and support them in their adventure. Each OCTA Chapter should start compiling the detailed information they would need for their planning process. Individual OCTA members could be as involved as they choose to be. They will be camping along the way and supported by a van. We will share more details as they become available.
National Historic Trail Asset Inventory
Ever wondered how many interpretive waysides, museum exhibits, road or pedestrian signs are along the national historic trails or what condition these items are in? Now you can help inventory these assets using an app on your phone. The National Trails Office has developed a mobile application (app) for tracking assets along the trail including interpretive waysides, museum exhibits, and National Historic Trail (NHT) road or pedestrian signs. This app utilizes a user-friendly interface, similar to a fillable PDF, and only requires filling out prompted questions and taking site asset photos while the mobile device captures the global positioning system (GPS) location. Locations record automatically when the user submits information for the sign, wayside, exhibit, or other NHT asset. The app eliminates the use of complex and costly GPS devices and enables users the same capability on their smart phone or tablet utilizing the built-in GPS. No cellular coverage or internet connectivity is required for field recording of locations because uploads occur once the user is connected back to a network.
The asset inventory is conducted through the ESRI Survey123 app, allowing the National Park Service's office to work collectively with volunteers and trail associations to inventory the assets across the expanse of the NHTs. Through the use of the app, trail associations and the National Trails Office can answer questions regarding the number of assets, conditions, whether they need to be replaced, location, and where there is a lack of interpretive assets.
The survey dynamically changes and displays questions based upon the user inputs to questions regarding the NHT, sign type, asset title, material types, dimensions, and condition. Be aware of your surroundings most especially in proximity to roadways. Be cautious of wildlife when conducting field data collection and respect private property or ensure you have the proper permissions or permits for access. Do not record cultural resources or use the app for historic trail mapping.
Contact OCTA HQ at tboley@indepmo.org if you are interested in being a contributor to this effort and an ArcGIS Online partner account will be created for you to access training materials and enable your use of the app after downloading from the app store.
Chuck Dodd
We reported previously on the passing of long-time OCTA member Chuck Dodd. This week, his son reached out to OCTA HQ and provided an official obituary for Chuck. Here it is in its entirety:
Charles "Chuck" Dodd, 86, passed away on January 8, 2021. He is survived by three children, several grandchildren, one great-grandchild, and his long-time life partner Alison Portello. Chuck was born in White Cloud, Kansas on May 14, 1934, to Firth and Emaleigh Dodd. He attended the University of Kansas and San Diego State University, graduating with a Bachelors degree in History.
Chuck earned his living as a writer in Silicon Valley, but at heart, he was an historian and educator with dust on his boots. He gave numerous talks and tours, and wrote books about California trails and the emigrant experience (Guide to Traveling the Applegate-Lassen Trail; Guide to Getting Around the Black Rock Desert and High Rock Canyon; California Trail: The Story Behind the Scenery; Over, Around, and Across: The Truckee Trail through Reno and Sparks, Nevada; and Not Half the Trubles: A Letter From Virginia Reed, May 16, 1847, editor). Most recently, Chuck was working on a catalog of J. Goldsborough Bruff's California Gold Rush drawings that tells Bruff's story and describes each drawing and its setting, within the context of his journey.
As part of his work to preserve historic trails, Chuck worked with Congressman Harry Reid, and argued the case before Congress, to get the 50 miles of the Applegate Trail between Imlay, Nevada and Goose Lake declared a National Conservation Area so the trail could not be destroyed by mining and development.
No services are planned at this time. I think Chuck, my Dad, would prefer his friends just remember some of the good times they shared with him.
Nominations Committee Seeks Nominees for Board Election
Nominations are being accepted through February 15 for election to OCTA's National Board of Directors. Four Directors will be elected. Directors serve three-year terms and may serve no more than two consecutive terms with at least a year off before being eligible to run again.
Directors whose terms will expire at the National Annual meeting in 2021 are Matt Mallinson, Duane Iles, John Briggs, and Helen Hankins. Hankins and Briggs (future President) are both eligible for re-election. Mallinson and Iles are completing their second three year terms and not eligible for re-election.
Members of the Board are responsible for setting policies and priorities for the organization and electing officers. They also serve as important liaisons with OCTA chapters and can represent the interests of their chapters at board meetings.
Directors are expected to attend two Board meetings annually, one of which is held in conjunction with the Annual Convention. The second, a Mid-Year meeting usually held in the late winter or early spring, is held in rotating locations.
In order to be a candidate for the Board of Directors, a short statement of qualifications and experience are required, as is a recent photograph and the endorsements of three members of OCTA. These items should be sent to the Nominating & Leadership Committee chair. Contact Pat Traffas at traffasp@gmail.com, or send mail to 6731 W. 108 Terrace, Overland Park, KS 66211 no later than February 15, 2021.
We also need candidates for Vice-President to be elected at the annual meeting by the Board of Directors. It is a two-year term leading to the Presidency.
For more information about the election process or the job, please members of the Nomination & Leadership Committee, Pat Traffas, Duane Iles 96cruisin@embarqmail.com, or Cecila Bell ceciliajb@aol.com. Additional information may also be found at the Members Area of the OCTA website.
OCTA Seeks Volunteers for Marketing/PR Committee and Library/Archives Committee
Last September, OCTA's Board of Directors approved its newest Five Year Strategic Plan. OCTA seeks members and leaders for our Marketing/PR Committee and Library/Archives Committee to help implement the goals, objectives, and action items delineated in the newest strategic plan.
Action items for both our Marketing/PR Committee and Library/Archives Committee can be found on page four of this plan.
Goal 2 of the plan reads "(p)resent the stories of the emigrant experience in a manner that is inclusive of other perspectives."
Objective A reads "(i)mprove and expand data collection" with Action Items of:
Make publications, diaries and journals available through improved website for public access
Inventory and improve access to OCTA library collections
Outcomes and Deliverables include:
Trails-related publications, diaries and journals are digitized and posted to the OCTA website annually
OCTA library collections are inventoried and deposited into publicly accessible repositories by 2025."
Objective B reads "Raise Public Awareness" with action items of:
Expand availability of organizational speakers
Create audio visual materials
Develop a Social Media Plan and other outreach materials
Expand use of social media
Deliverables include:
National will assist chapters to offer presentations in their communities
A minimum of 15 videos of two – five minutes in length are posted on websites and social media by 2025
Social Media Plan would identify an outreach product to be created and posted to the OCTA website annually
OCTA Twitter feed and Instagram posts are initiated by 2021; website and Facebook are active and kept current monthly
If you are interested in serving or chairing either committee, please contact President Lee Black at nobletr1857@gmail.com.
Order Fresh Coffee and Help OCTA's Bottom Line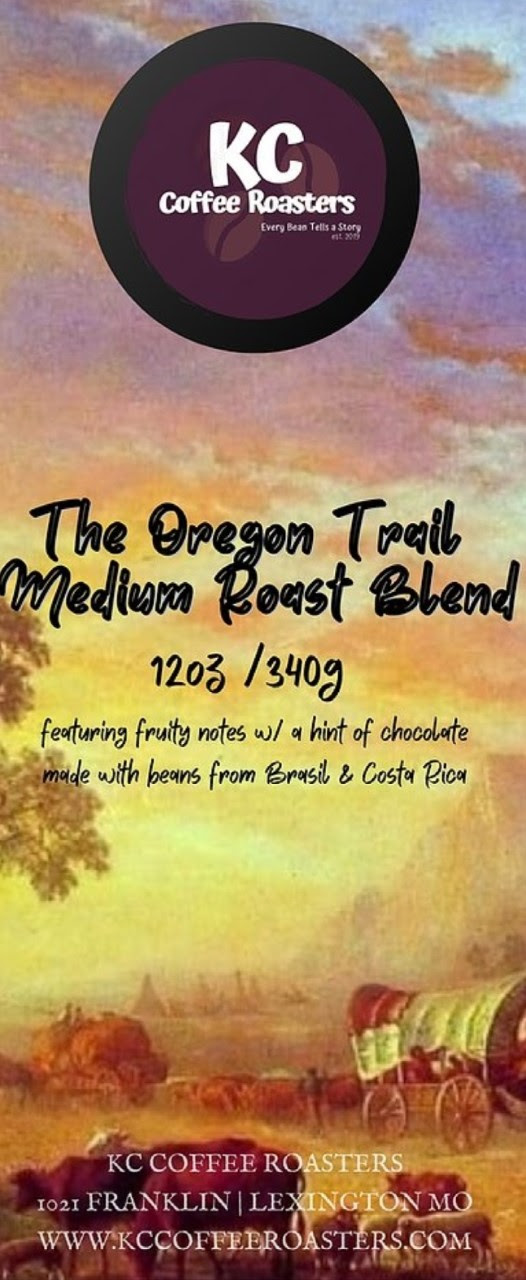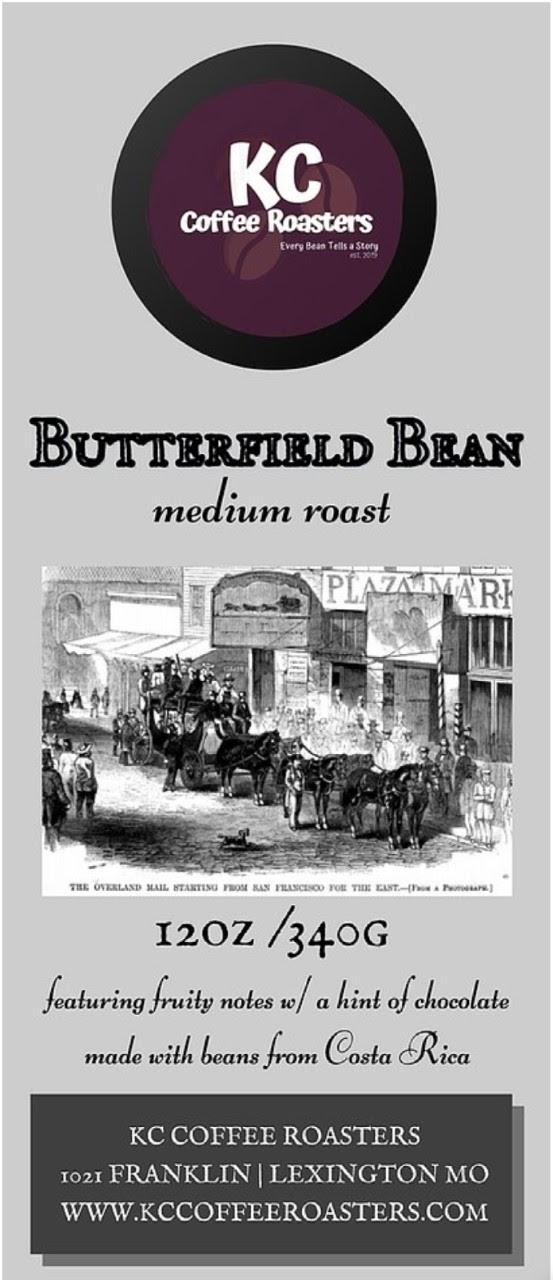 OCTA member Richard Gibson reached out to us with a review of the coffee. He wrote:
"I wanted to say to the group and to the KC ROASTERS that I am thoroughly enjoying my OREGON TRAIL ROAST BLEND COFFEE. It is mellow but full of flavor and is easy to warm back up or drink when cold! Great Idea for whomever came up with this promotion for OCTA! THANKS. I still have another package unopened!"
We concur whole-heartedly with Richard, though the E-News editor is of the opinion that the Butterfield Bean Medium Roast is slightly better than the wonderful Oregon Trail Medium Roast Blend. We remain excited that KC Coffee Roasters created two specialty coffees with 10% of every purchase being donated to the Oregon-California Trails Association. They are currently featuring Oregon Trail and Butterfield Bean blends. Visit their website at https://www.kccoffeeroasters.com/order-online to order now.