OCTA Needs Your Input on a Short Elko Convention and Membership Survey
OCTA is set to hold its annual convention in Elko, Nevada from September 13-16. Our contract stipulates that we need to make a final decision on whether or not to hold it by 90 days out. Please take our short survey so that we can assess the membership's desire to attend a convention if it were held. You can take 
the survey at this link
.
Board Meeting Set for February 27
OCTA's Midyear Board Meeting will be held via Zoom on Saturday, February 27 beginning at 10 AM Central. Please send your notice to virtually attend the meeting to Board Member Jean Coupal-Smith at
jcs1fun1@kc.rr.com
. She will furnish you with login credentials. All members are welcome to attend.
Black History Month Videos on OCTA's YouTube Channel
OCTA will be releasing a number of short videos this week featuring the contributions of African-Americans to our National Historic Trails. We just launched our newest video on Emily Fisher, a former slave who wound up owning a hotel on the Independence Square that become very popular with trail travelers. Her granddaughter would become a cook for Harry and Bess Truman, and when Truman became President in 1945, their cook went to the White House with them.
We previously launched a short video on Hiram and Matilda Young, former slaves who became wealthy wagon manufacturers. In the coming days, we will release videos on Sam Shepherd, a slave who hewed the logs for the first Independence Courthouse, and another video about a slave-owner and her mulatto slave who lived along the trail in Jackson County, Missouri.
Please also plan to attend the Zoom board meeting this Saturday (information above) to see the debut of our video on Biddy Mason, a slave from Mississippi whose masters converted to Mormonism and made the trek from Nauvoo, Illinois to Salt Lake City before settling in San Bernardino. It was in California where Biddy would gain her freedom and become one of the wealthiest residents of Los Angeles. As an added bonus, you will have the opportunity to meet the actress who portrayed Biddy Mason. She will be available to answer a few questions after the debut of this 8-minute video about the life of this extraordinary trail pioneer.
We would like to thank the Independence Community Theater and its Executive Director, Nancy Eppert, for costumes, use of the Independence Log Courthouse for staging, and for portraying our slave owner in one of the videos (certainly not the most comfortable role to play). We also thank our actor and actresses who brought these historic figures to life so they won't be forgotten.
Be sure to subscribe to our YouTube Channel and share our videos with friends and family alike! If you subscribe to the channel you will get an email alert the second our new videos go live. And we have a slew of other videos to release this spring on diverse topics such as St. Joseph, Lone Elm Campground in Kansas, the trail in Arizona from Nogales to Yuma, and the historic importance of Lexington, Missouri as the headquarters of the outfitting firm Russell, Majors, & Waddell.
NPS National Trails Office (NTIR) to Hold Free Zoom Workshop on Conservation Easements
The NPS National Trails office (NTIR) is planning a free Zoom workshop on protecting historic trails through conservation easements, to be presented on Thursday, May 27, 10 a.m. – 4 p.m. (Central). If you are interested in participating, please email tboley@indepmo.org by Wednesday, March 17.
The workshop will be presented by Don Owen, who has over 23 years of experience protecting, managing, and stewarding conservation easements and national scenic and historic trails. Don has trained NTIR staff on this topic and his course is excellent!
Conservation easements are sometimes proposed as mitigation for adverse effects on trail resources, but many of us don't how what's entailed or how to start the process. NTIR has received numerous inquiries about conservation easements over the past few years, so this is a great opportunity.
Colorado-Cherokee Trail Chapter's Archived "President's Fireside Chat" From Saturday
For those who were not able to attend the Zoom meeting hosted by our Colorado-Cherokee Trail Chapter last Saturday, we are pleased to share this link to the archived video. OCTA President Lee Black led 48 members through a Fireside Chat. We hope you enjoy it and stay tuned for future Zoom presentations.
Southern Trail Chapter to Host Zoom Presentation 
Criss-crossing what would become the U.S.-Mexico border, travelers wended their way on the Southern Trail. Come hear Harry Hewitt talk about the joint U.S./Mexico effort to survey the border in the mid-19th century.
Afterward, Daniel Judkins will speak about traveler's experiences on the Southern Trail — bells ringing in the desert and fresh peaches picked in the Sonoran sun paint a picture of an earlier time when borders were still nebulous.
Register for the event at bit.ly/SouthernTrail. This presentation is free and open to the public. It is presented by the Southern Trails Chapter of the Oregon-California Trails Association on Thursday, March 18, 2021 from 7:00 PM – 8:00 PM Central.
National Historic Trail Asset Inventory
Ever wondered how many interpretive waysides, museum exhibits, road or pedestrian signs are along the national historic trails or what condition these items are in? Now you can help inventory these assets using an app on your phone. The National Trails Office has developed a mobile application (app) for tracking assets along the trail including interpretive waysides, museum exhibits, and National Historic Trail (NHT) road or pedestrian signs. This app utilizes a user-friendly interface, similar to a fillable PDF, and only requires filling out prompted questions and taking site asset photos while the mobile device captures the global positioning system (GPS) location. Locations record automatically when the user submits information for the sign, wayside, exhibit, or other NHT asset. The app eliminates the use of complex and costly GPS devices and enables users the same capability on their smart phone or tablet utilizing the built-in GPS. No cellular coverage or internet connectivity is required for field recording of locations because uploads occur once the user is connected back to a network.The asset inventory is conducted through the ESRI Survey123 app, allowing the National Park Service's office to work collectively with volunteers and trail associations to inventory the assets across the expanse of the NHTs. Through the use of the app, trail associations and the National Trails Office can answer questions regarding the number of assets, conditions, whether they need to be replaced, location, and where there is a lack of interpretive assets.The survey dynamically changes and displays questions based upon the user inputs to questions regarding the NHT, sign type, asset title, material types, dimensions, and condition. Be aware of your surroundings most especially in proximity to roadways. Be cautious of wildlife when conducting field data collection and respect private property or ensure you have the proper permissions or permits for access. Do not record cultural resources or use the app for historic trail mapping.
Contact OCTA HQ at tboley@indepmo.org if you are interested in being a contributor to this effort and an ArcGIS Online partner account will be created for you to access training materials and enable your use of the app after downloading from the app store.
Order Fresh Coffee and Help OCTA's Bottom Line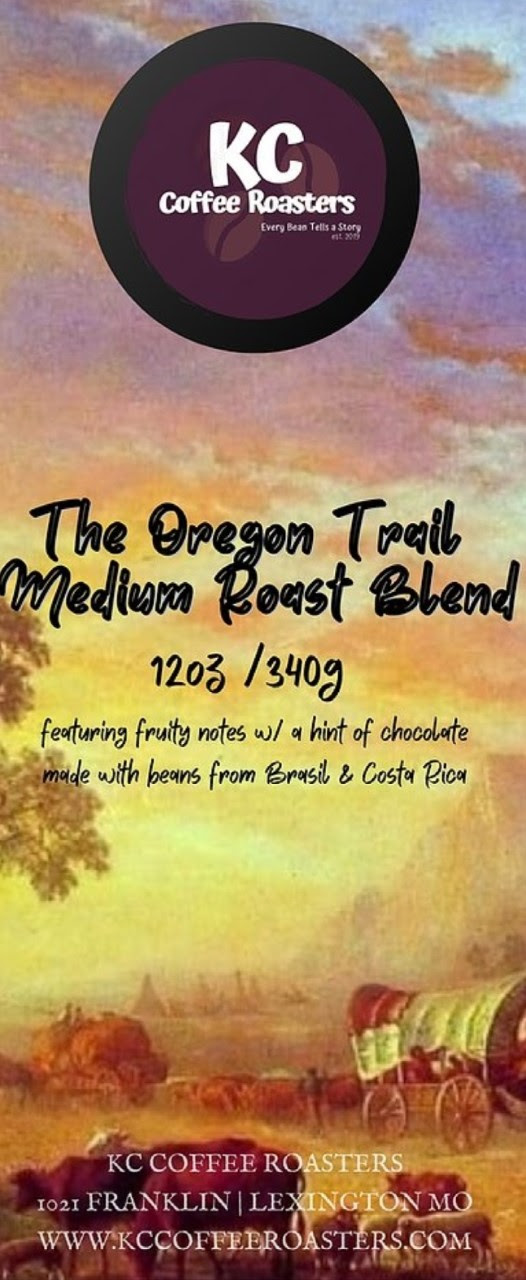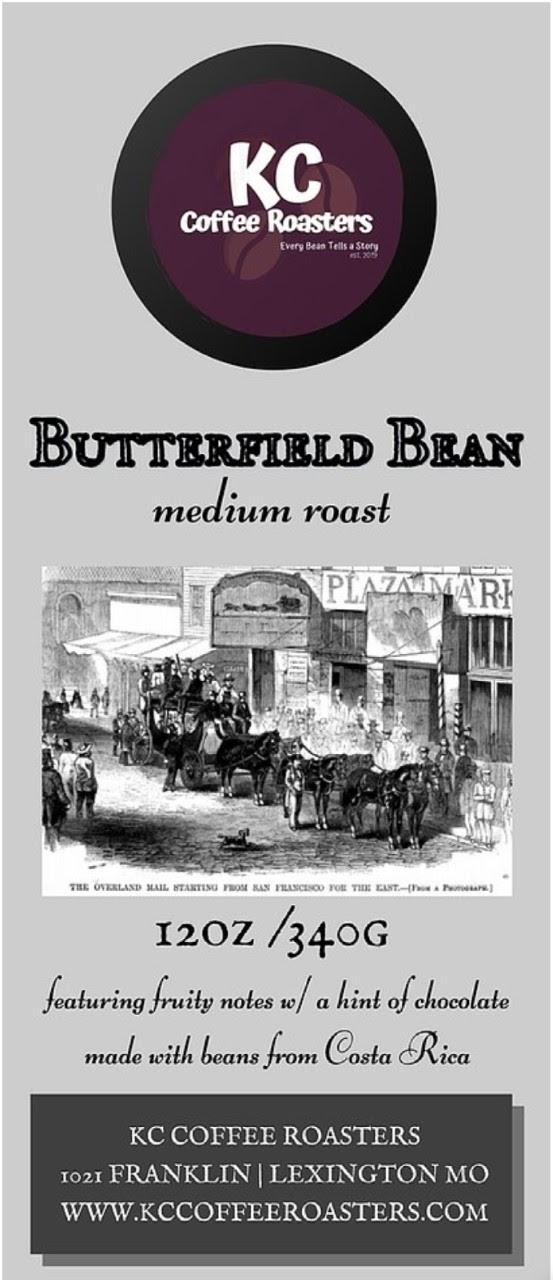 OCTA member Richard Gibson reached out to us with a review of the coffee. He wrote:
"I wanted to say to the group and to the KC ROASTERS that I am thoroughly enjoying my OREGON TRAIL ROAST BLEND COFFEE. It is mellow but full of flavor and is easy to warm back up or drink when cold! Great Idea for whomever came up with this promotion for OCTA! THANKS. I still have another package unopened!"
OCTA Board Member Jean Coupal-Smith added:
"This is a wonderful brew! I love the rich, bold flavor, even though its medium roast and I usually drink dark roast. I rate it up there at the top with my favorite Starbucks blend of Cafe Verona. It is very smooth."
We concur whole-heartedly with Richard and Jean, though this E-News editor is of the opinion that the Butterfield Bean Medium Roast is slightly better than the wonderful Oregon Trail Medium Roast Blend. We remain excited that KC Coffee Roasters created two specialty coffees with 10% of every purchase being donated to the Oregon-California Trails Association. They are currently featuring Oregon Trail and Butterfield Bean blends. Visit their website at https://www.kccoffeeroasters.com/order-online to order now.